Development and manufacturing of equipment both according to own technical documents, and according to Customer's documentation.
Combination of PLUTON experts technical skills and years of their experience, production areas equipped with all necessary technologies, as well as constant quality system improvement ensures high reliability and efficiency of PLUTON equipment that meets international and European standards.
Our experts develop and manufacture equipment both according to own technical documents, and according to Customer's documentation. Equipment consists only of certified and high quality components from leading world manufacturers.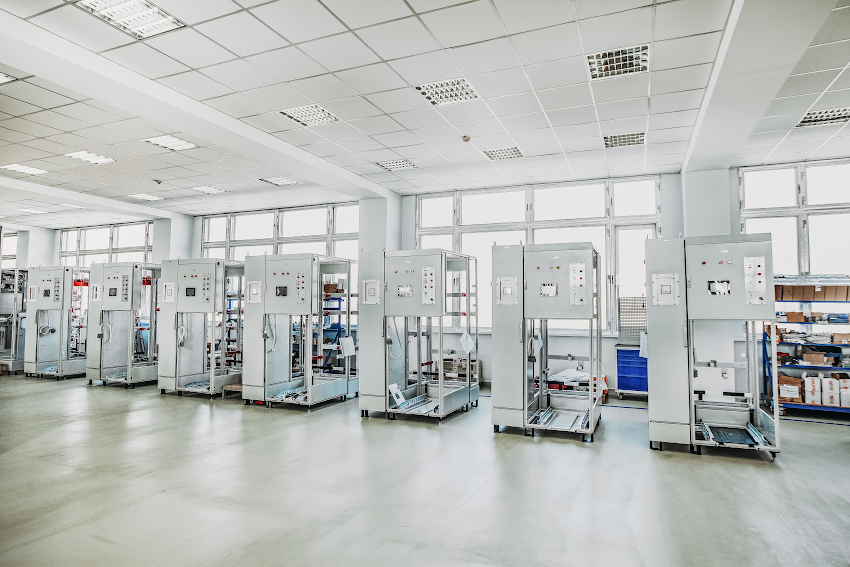 Equipment supply to the Customer's site
One of the services, provided by PLUTON, is equipment supply and transportation to the Customer's site. We supply all the necessary components and spare parts, needed for complete and quickest possible reconditioning of equipment. Fast and timely supply is possible due to the warehouses located on PLUTON production facilities, where we store all necessary for ongoing projects materials and components.
We understand that our Customers require reliably operating equipment, that meets claimed performance and Customer's demands, timely and quickest possible. We offer various transportation options, including selection of the needed vehicle type, depending on cargo overall dimensions and weight.
All the equipment is supplied to the Customer in the marked packing, intended for equipment transportation, loading/unloading and storage according to technical requirements. Also, we provide the Customer with all the data on the purchased equipment and all necessary documents — technical details, operation manuals, data sheets with factory test reports, circuit diagrams and design documentation.
Besides, PLUTON is a group of companies around the globe: Ukraine, Poland, Germany, Australia, India, the Republic of Kazakhstan, the Republic of Turkey.
It allows to significantly optimize for the Customer such processes as: logistics, commissioning on the site, constant technical support, warranty and post-warranty maintenance of supplied equipment. Therefore, it positively influences costs optimization for the end Customer, and provides maximum favorable conditions for cooperation with PLUTON.
How can we help you?
Please contact us in case you have any technical queries, requests regarding customized procurement or delivery time of equipment.
Representative office in Australia

Andrii Nerovniy
Managing director
CONTACT BY EMAIL
Worldwide presence